Indelac Controls, Inc.
---
About
Our Mission Statement & Strategic Vision
At Indelac, we are one big, motivated family, and our family is dedicated to advancing the technology we use and our employees' expertise in a constant effort to better serve our customers' automation requirements. Our upgraded facility continues to utilize state-of-the-art machinery throughout the manufacturing process, assuring the highest possible quality using American-made products.
Indelac's main goal as an actuator company and electric actuator manufacturer is to design, develop and manufacture a high-quality electric actuator at a competitive price while maintaining "on time" delivery. ICI's product line consists of electric actuators with torques ranging from 100 lb-in (11 Nm) output torque through 27,300 lb-in (3 084 Nm) output torque. We offer an array of controls for the most mundane on/off control to sophisticated process control applications.
We are looking to become more energy efficient as well as improve our production process to achieve lean production. A sustainable future is a concept taken very seriously here at Indelac, and we are doing everything we can to fulfill this objective while constantly improving our quality. Finally, we are aiming to increase our worldwide exposure and earn the international certifications that would be required.
Electric Actuators – American Made Quality Policy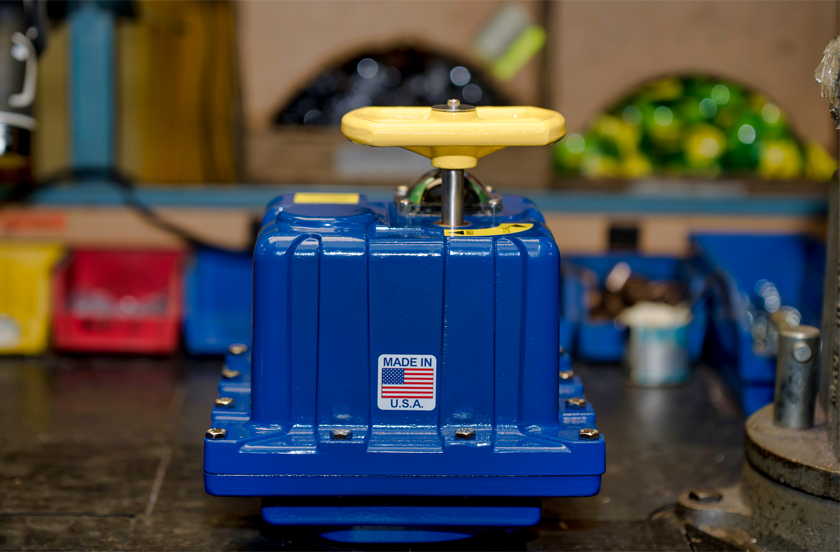 Indelac Controls, Inc.'s electric actuators are American made. Our manufacturing takes place in Florence, KY, USA. We own our patterns, dies, molds, tooling, machinery and equipment. We purchase our castings raw and our steel by the bar from American suppliers. Our motors, gaskets, bearing, nuts, bolts and screws are procured from companies in the United States. Our parts are machined and our actuators are assembled, tested and calibrated in our own factory here in the USA.
Yes, every ICI electric actuator is American made, not because it sounds good or it may be the deciding factor on a project we are quoting, but because of who we are and where we came from and because we are free to make that choice. Our fore fathers and brothers and sisters today have and are now giving up their lives so we can be free. ICI actuators are American made because it is one small way in which we can participate in supporting our country and our heritage.
ICI's management is committed to conformance to corporate quality policy and to act as a leader in our efforts to meet our quality goals. Our quality policy is to manufacture electric actuators that our customers recognize to be of high quality at a price that is fair and reasonable.
Indelac is committed to continual quality improvement of all operating systems, products and services with our ultimate goal being zero defects and total customer satisfaction. These goals will be implemented through:
Total Quality Management (TQM)
Advanced Employee Training (AET)
Individual Responsibility (IR)
Advancements in Designs, Production Control and Manufacturing Technology (ADPCMT)
These operational standards, specifications, rejection parameters, certifications, testing and inspection procedures will act as the guidelines we follow to manufacture our products.
Meet the Team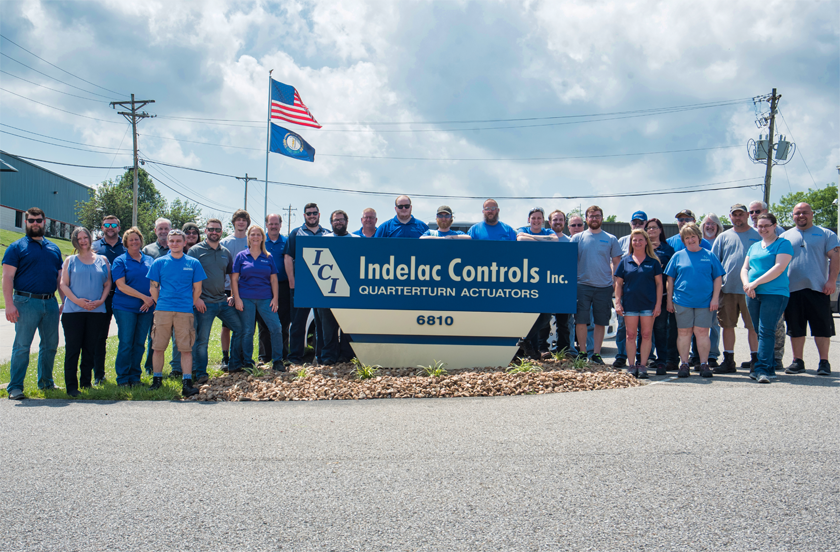 Each employee plays a vital role in ICI's success. Everyone realizes their importance and takes great pride in the products we manufacture.
Here at ICI our people are customer oriented, and our products are application centric. Utilizing experience gleaned from over 30 years of manufacturing electric actuators, our team of experts will help you choose the automation solution that makes sense long-term. We take pride in providing uncompromised quality, backed by good people, delivered on time, at a fair price.
Products
Indelac Controls, Inc. manufactures a broad range of products for the valve and damper automation industry. Our product offering includes quarter turn electric actuators which include an enormous selection of optional equipment and control packages for nearly all automation applications, multi-turn electric actuators, actuators, linear electric actuators and linear spring return actuators, electric quarter turn spring return actuators, control panels, battery backup systems, and various other actuator products.
Industries
Indelac Controls, Inc. (ICI) has established itself as a leading manufacturer and supplier of durable electric actuators. Our versatile products have been used in thousands of applications across a broad spectrum of industries. We offer a wide array of quarter-turn, multi-turn, and linear electric actuators capable of providing automating solutions for both commercial and industrial applications.
Our actuators handle all rotary valves, including:
Ball valves
Plug valves
Choke valves
ICI actuators also control linear valves, such as:
Gate valves
Globe valves
Sluice valves

Knife valves
Diaphragm valves
Needle valves
If ICI's standard products aren't suitable for your operation, our valve actuators can be custom manufactured for any industrial application. From water/wastewater and oil/gas to mining, power generation, or food and beverage we provide unique solutions tailored to your specific requirements and specifications.
Industry Standards
At Indelac, we understand that actuators need to operate in a multitude of sensitive and sometimes hazardous environments. With this in mind, Indelac's offers solutions that are CSA and C US certified for safe and efficient operation in a variety of hazardous locations in accordance with:
Canadian Standards: CSA C322802 – Valves – Actuators – For Hazardous Locations, CAN/CSA – C22.2 No. 139-1982; CAN/CSA – C22.2 No. 25-1966; CAN/CSA- C22.2 No. 30-M1986
United States Standards: Class C322882 - Valves – Actuators – For Hazardous Locations - Certified to US Standards, ANSI/UL 429, Seventh Ed. – 2013, ANSI/UL 1203 Third Ed. – 2000
Our expansive line of quarter-turn, multi-turn, and linear electric actuators are housed in standard NEMA 4 enclosure for protection against extreme weather conditions. Optional NEMA 4X, NEMA 7, and NEMA 9 certified enclosures are also available for extra protection in highly corrosive, ignitable, and explosive environments. Further corrosion protection can also be added with epoxy coating, nickel plating, or anodized coatings.
In addition, our diverse product line features actuators built to suit the torque requirements of most small and mid-sized applications, including:
Internal Battery Back-Up Electric Actuators (400-2,800 in. lbs. torque)
Spring Return Electric Actuators (200-1,200 in. lbs. torque)
Quarter-Turn Electric Actuators (100-27,300 in lbs. torque)
What Sets Indelac Apart?
At Indelac Controls Inc., all our actuators are manufactured in the USA and built to order from the highest quality materials. Our experienced staff, state-of-the-art equipment, and modern facilities produce durable, fully customizable, and competitively priced solutions in the shortest possible turnaround time.
The benefits and functions of our actuators often overlap a variety of applications, so ICI welcomes all inquiries from customers working in any industry. Our qualified and knowledgeable technical team will go above and beyond to ensure that you are satisfied with the quality of our service.
If you would like to learn more about how Indelac Control Inc.'s uniquely customizable solutions can be used in your industry, contact our technical team. Let's work together to find the right actuator for your application.
Resource Library
Utilize our robust resource library for eBooks, 3D CAD, videos, quick guides, and much more.
Contact
6810 Powerline Dr.
Florence, Kentucky 41042
United States of America